Cider production is a booming industry which is full of creative and crazy impressive package and label design ideas. With the development of the industry, the market includes more and more brands producing cider creating a competition which is obviously hard to withstand. A carefully designed and planned label must send a clear message about how high the quality of the product is. Of course, the taste of the cider isn't enough to maintain a sustainable place in the market.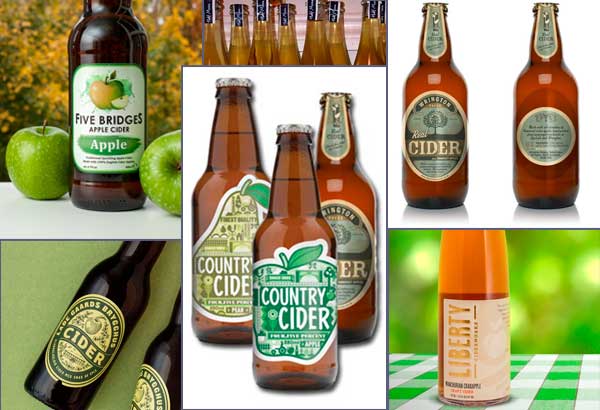 Choosing the material
When it comes to having a high-quality label, material is the most important part. No matter how hard the designers try to create something extremely extraordinary, your product is not going to have a high-class look as long as it isn't made of materials that withstand all the possible conditions that a label may appear in.
Paper choice can include materials made from paper, textured paper, vinyl or polypropylene.
Polypropylene creates waterproof, weatherproof as well as tear-resistant labels. While Vinyl labels, for example, have strong adhesive thanks to which they stick to any surface and bubble free air egress technology is used to make sure it sticks super smoothly. It can easily be removed when you need it to without leaving any marks.
Besides the materials that we have already mentioned above, you can also choose between metallic and clear substrates which you can be combined with shiny gloss finishes and satin matt finishes.
Cider label printing
In the label creation process, of course, choosing the right printing technology is a responsible and important step. For cider labels, flexographic printing and digital printing are required depending on the amount of the labels you need to have printed.
Flexographic printing is used when the order is large or medium as the labels are fed in using rolls. Such labels can be printed on a wide variety of materials such as films, plastics and papers.
Digital printing is meant for smaller amount of orders. One of the advantages of digital printing is that it can be made with variable data printing which means that each label can differ from the rest within one print run. It provides vivid colors and high resolution.
Weather you choose to have your production bottled or canned, it is always important to get stuck in people's minds. So, just before you give your label printing a go, make sure that you have done a thorough market research and talked to experienced experts.