Diary market is getting crazier as time passes with each brand representing their own milk. So, if you are thinking of designing a milk label or changing the old one to be able to withstand the competition, here you will find important piece of information to help you.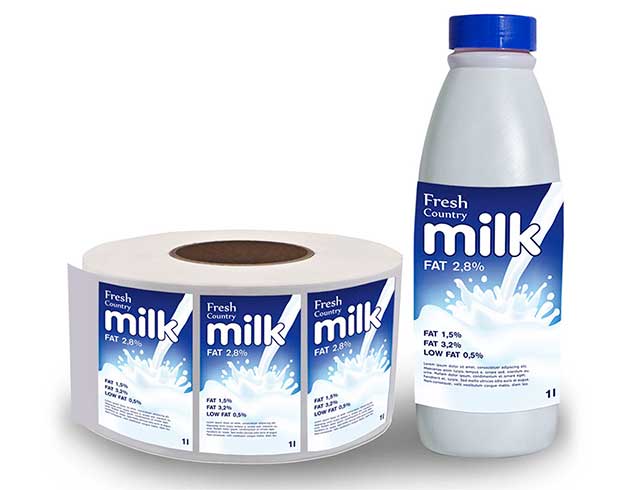 Nowadays, milk bottles come in different shapes, sizes and flavors. Depending on different factors, they are also available in containers of different materials which causes some problems when it comes to labeling. The problem is that it is hard to understand which adhesive works best with the exact material.
Now let's see how you can choose an outstanding label and catch an eye in the market.
Make sure to find a unique and impressive color which will look good on a white background or transparent as most of the milk containers are white.
Next step is the choice of the label material because, as we know, milk is stored in refrigerator and we must make sure it can stand such conditions.
Pick a right size for the label which will have enough room to include all the information concerning the nutritional facts, expiration dates, as well as other crucial nutritional information pertinent to customer consumption.
Let's pass on to design part.
Give a room to your creativity. Feel free to use bright colors and images which will stay in the customers' memories.
Don't be extra. Simple design looks best on a milk packaging. You can use metallic foils and gloss varnish the simple but catchy look.
Make it easy to stay in touch. Leave a QR code so that your customers will find you easier.
Dairy products are the kind where having the right label is of the utmost importance! It's essential to create a kind of label which will transfer all the information easily and one will have no hardship when looking at it. People are usually very extra when buying dairy products such as milk, cheese, cottage-cheese and it is very important to have one which will evoke trust.