Labeling is a part of packaging and logically it is one of the first things that attracts the costumer's attention and leaves the first impression. Besides a beautiful design and thoroughly expressed information, the client also pays attention to the label material and print quality. So, let's speak about different printers commonly used nowadays.
Offset printing
Offset printing is usually being used for wet-glue labels on bottles and jars. They are great for printing large quantities of labels with a good price.  Modern offset printing uses thin, small grain aluminum sheet plates.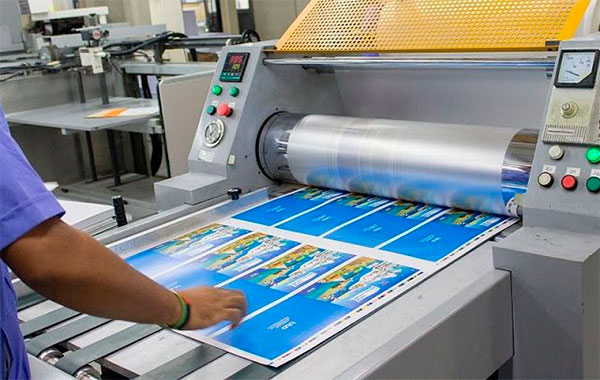 The process of ink being transferred on the plate is done by using water and rollers. It works with 4 plates per image using each of them as a color separation method. Offset printing has the following advantages:
Affordable: Offset printing cost-effective as the budget-friendly paints are being used.
Differently shaped labels: Thanks to the technique it is possible to print labels of any shape.
Impressing effects: Offset printing can be used for special finishes, including gold foil stamping and lamination.
Screen printing or silk-screen print
Another method is Screen printing which used to be called silk-screen print as the mesh was made of silk. This is also why it is called serigraphy. 'Seri' is the latin word for silk, and 'graphy' originates from the Greek word 'graphein' – to write or draw. Today the mesh is often made of polyester.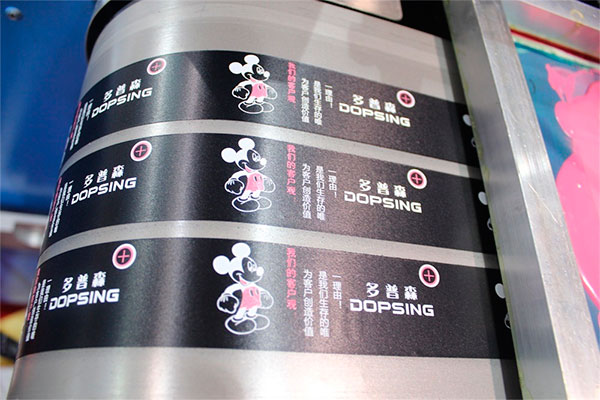 Now let's consider the advantages that screen printing has.
Color coverage: The color is transferred to the substrate in thick layers and covers very well making it a preferred method for transparent substrates.
Color resistance: This feature makes it great for outdoor usage. You can actually feel the print when you brush your fingers over it.
Luxury impression: Screen print is often used to make a high-end effect on labels for wine and spirits, with a glossy finish.
How it works?
The pattern we want to transfer on to the substrate is called a stencil. The stencil is made in several steps. We start with a clean mesh cloth and coat it with an emulsion. When the emulsion has dried, a film with the stencil pattern is placed on the cloth. Then we expose the plate to harden the emulsion around the stencil. The next step is to wash off the emulsion that has not hardened and end up with the pattern for our print.
To set up a print job, Conventional presses require a lot of time and material to obtain metal or rubber print plates and then mount and test the plates to assure print alignment and finally, to check the inks so they flow correctly.
This is what adds up to "set-up costs" and they are not cheap – especially since you often have to run 100's of feet of material to get everything synchronized. In this case the print quality doesn't depend on the ink and plate as much as it depends on the expertise of the machine operator. With Conventional printing, you have to keep adjusting the ink consistency and keep the plates clean which can seem like a juggling act at times.
Variety of working materials: Conventional printers allow the usage of different materials for labels as well as offers extensive choices in ink formulas.
Exact shade: A special ink mx will be used to get exact matches.
All the three methods may be a good match for you depending on your product size and some characteristics that shall be discussed with experts in the field.