Finding the right label to fit your water bottle may be hard as nowadays the number of water-bottle shapes and sizes is crazy! Different brands offer different shapes but the same brand may have slight differences in the bottles depending on the manufacturing facilities they have been shipped from. For instance, 16.9 oz. the bottle that was made in Costco in Seattle, Washington can be somehow different from the same bottle made in Tampa, Florida.
Types of water bottle labels
Depending on your preferences and imagination of the product look, you can have different options for your bottle's water labels.
Cut-to-size – These are individually cut labels with a specified shape and size which are meant to be used for a particular purpose.
Roll – It is possible to apply them both with a machine and manually. They are made on a continuous liner.
Sheet – They are meant for those who want a variety of designs. Roll – Best for high-volume applications, roll water labels can be applied by hand or by machine.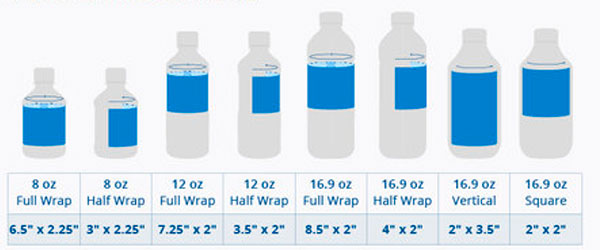 Most commonly used sizes and shapes of labels
Below, you will see the most widely used label sizes for bottled water.
For 500 ml water bottles, you have the options mentioned below.
8″ x 2.5″ Labels
8.5″ x 3.5″ Labels
8.5″ x 2″ Labels
3.5″ x 2″ Labels
For 1 l water bottles, 4″ x 5″ Labels are a perfect fit.
For 8oz water bottles, you can have labels sizes mentioned below:
8.1875″ x 1.375″ Labels
8″ x 2″ Labels
For 33.8 oz, choose 6.5″ x 4.5″ Labels
You can have your bottle labels printed in different shapes such as rectangle, square, circle, or oval. You will get respective size options for each of them. Let's see which labels suit the exact shapes of bottles well branding them in a unique way.
For circle, oval, square shapes, you shall select 2"x2" size
For rectangle shapes, in case of wanting a wraparound label, choose 2" x 8.5".
It is important to note
To have a perfectly fitting label, you will have to do some measurements of
The height- to be sure that the surface is flat and the label doesn't go over the ridges.
The circumstance of the bottle- to know the label width.
It is possible to create an impressive and well-fitting label even without a professional designer's help if you manage to correctly do the dimensions and choose the right shape of the label according to your bottle.